Total luxury with incredible views
Sleeps 2 adults, 3 children. Min 2 night stay.
If you're looking for somewhere very special, Maylies is the answer. Even those who don't like the idea of glamping will yearn to return to Maylies.
With two double bedrooms and an additional child's bunk, Maylies can comfortably sleep two couples or two adults and three good-sized children.
A stargazing roof above one double bed means you'll be able to appreciate the dark skies of Northumberland from the comfort of your very own bed.
Maylies has a cosy lounge area, a fully fitted kitchen and a bathroom with a flushing indoor toilet, with shower and wash basin. Two double beds are separated by a sliding door, with one of the beds cleverly converting into a place to sit and eat. A child's bunk bed is above the second double bed.
With extra feature such as radiators, ceiling star lights and even a TV, whatever the weather is doing outside, you'll be cosy inside.
Outside there is a fire pit, seating area and extensive views of the Northumberland countryside in a very private setting - apart from the odd sheep!
And with a large terrace offering glorious views of the Northumberland countryside, you can also take in the views whilst soaking in the outdoor antique French bath.
Everything has been thought of, Maylies really is top end luxury glamping!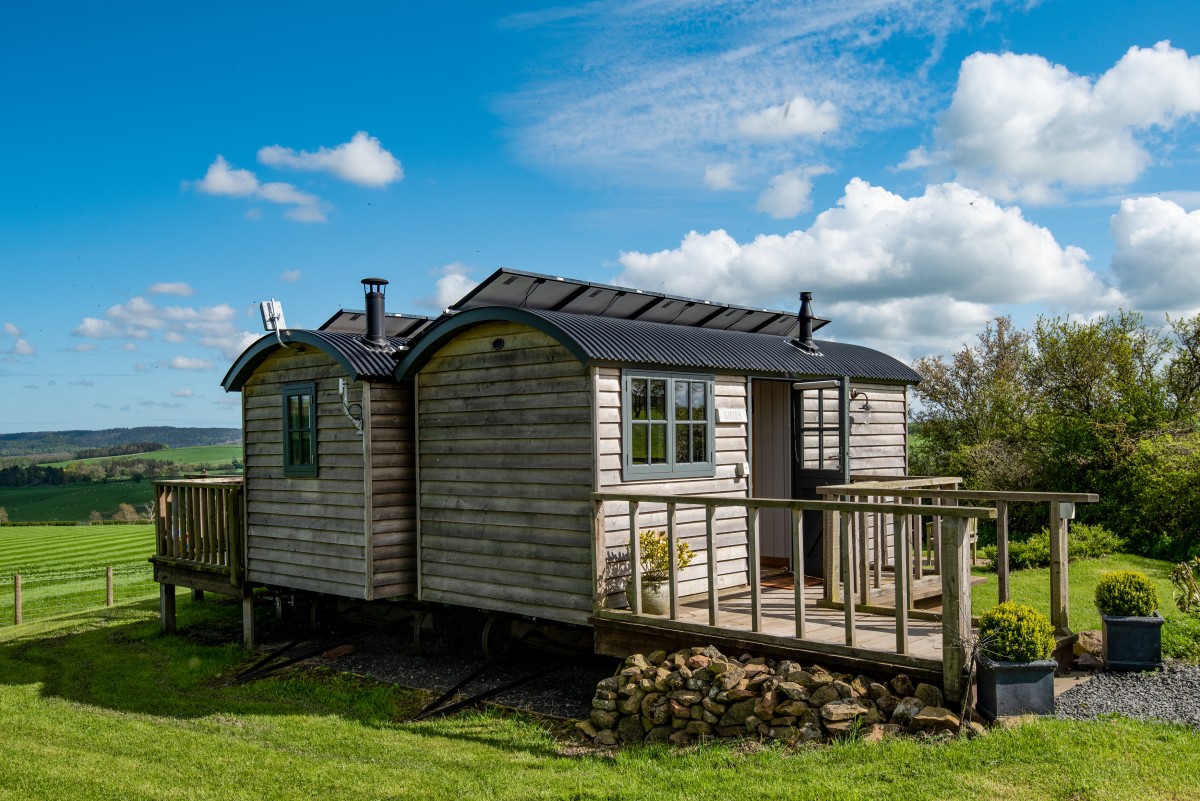 A welcome pack of tea, coffee, butter and bread will be ready in your hut on arrival. Delicious meals and breakfast baskets made on the farm from local ingredients can be ordered to be delivered to your hut.
Sleeps 5 (2 adults and 3 children or 4 adults). Minimum 2 night stay.
2 x double beds with luxury mattresses
Single bunk bed (only upper bunk)
Fine Egyptian cotton bedding
En-suite shower room with flushing loo, sink & power shower
Fluffy towels and complimentary toiletries
Wood-burning stove
Crockery, cutlery, cooking equipment
Mirrored TV
Heated towel rail
Table & stools
Outdoor bath - this runs just like a normal bath!
Water - the tap water comes from our spring on the hill, we have been drinking it for over 40 years, however if you would prefer not to drink the spring water please ask for bottled water
Solar - in summer months the huts are run entirely on solar, in winter months they are boosted with electricity
Boiler - the boiler for the hot water and bathroom towel rail is located in the cupboard
Firepit - the outdoor firepit can be used as a BBQ
Logs - we've supplied logs for the wood burner but can you order more
Additional goodies for YOUR BOOKING
Delicious meals and breakfast baskets made on the farm, from local ingredients, can be ordered to be delivered to your hut.
We can advise you on some great walks in the area!